www.youtube.com
Joy & Judy LIVE - The Twins Get Expert Fitness Advice From Anytime Fitness
After Judy's battle with cancer, both Judy and Joy find healthy eating to be so important. However, Judy and Joy also know that fitness and diet go hand in hand. A regular workout regimen is just as necessary as a healthy diet. It's so important, the twins took time out of their schedules to visit Anytime Fitness in Norwalk, CT to talk food & fitness!
---
Be sure to watch Judy and Joy's FULL workout video! ANYTIME FITNESS in Norwalk and Wilton are offering one FREE MONTH AF MEMBERSHIP and a FREE TRAINING SESSION for all new members who MENTION JOY & JUDY or HOOPLAHA - ONLY GOOD NEWS!
Anytime Fitness Trainer Alisa took Judy and Joy on a tour of the gym to talk about the best routine and equipment necessary for their personal health goals. For breast cancer survivor Judy, lymphedema causes aches and pains in her right arm. So, she wears a sleeve along her arm and avoids heavy lifting. On the other hand, Joy has difficulty with her back, so she focuses on exercises that will strengthen her core.
Based on Alissa's recommendation to stretch and warm up prior to getting started, the twins chose a sit-down bike with good back support for Joy.
Once they were warm, Joy and Judy did some strength training. Strength training is great for building lean muscle, which helps you burn calories even after you leave the gym. It's also good for bone and joint health and fighting off disease. Joy and Judy focuses on the ropes, the kickboxing bag, and the seated row, which helps strengthen the core and back.
Eating healthy and working out go hand-in-hand. So, Joy and Judy brought along a pre-workout snack to share. The yummy snack they chose was ezekiel bread topped with peanut or almond butter, a banana slice, and chia seeds, the perfect snack for energy before a workout!
And for a post-workout meal, try Judy & Joy's healthy, summer salads.
These Healthy Summer Salads Look Too Good To Eat
Summers are made for salads — big, green leafy salads filled with all the great produce the season has to offer. Salads are quick, easy, require minimal preparation, and are the perfect way to enjoy all the produce that's in season now.
Fitness Magazine recommends smoothies, greek yogurt, and oatmeal with fresh fruit as pre-workout foods and a more substantial meal such as grilled chicken and vegetables, salmon and sweet potato, and a veggie omelet with avocado for great post-workout options.

What to Eat Before and After a Workout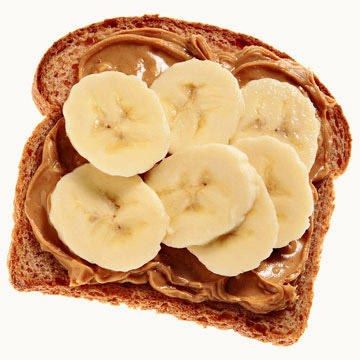 Ready to sweat? Not so fast! Here, the best foods to eat before and after a workout, so you can fuel up the right way. Munch on these for your best sweat session yet.
Watch Joy & Judy's latest Twin sisters, Love & Cooking video!
How They Help Families Battling Cancer
Twin Sisters surprise family battling breast cancer with healthy meal. The healthy food and first-hand advice provides relief for this family going through a tough time.

For see more of Joy & Judy, visit hooplaha.com and for more good news, follow us on Facebook and sign up for our Only Good News Newsletter.